Mahler's Origins: A "Sonic Goulash"
Mahler's Origins: A "Sonic Goulash"
All of Mahler's music reflects the world of sounds that enveloped him as a child growing up in Iglau in Moravia, now Jihlava in the Czech Republic. A sizable mining town halfway between Vienna and Prague, Iglau housed army garrissons from far-flung parts of the Austro-Hungarian Empire. The family lived over a tavern run by Gustav's father Bernard.
Time & Place: Mahler's Iglau
Explore the soundscape that echoed in Mahler's music throughout his life. Stroll around Iglau and listen to the kaleidoscope of sounds the young Mahler heard. Then listen to the way they took symphonic form in the very first bars of his first symphony.
Explore Map
Watch Video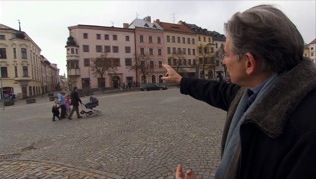 Play
Common Threads
"Impressions of his youth run like a scarlet thread throughout his work."
—Mahler's friend, musicologist Guido Adler
On this website you can follow the way Mahler's childhood memories — sounds of the countryside, the parade ground, the church, the tavern, and the synagogue — create common threads that run through all of his songs and symphonies.
"I have eaten and drunk, I have been awake and I have slept, I have wept and laughed, I have stood on mountains, where the breath of God bloweth where it listeth, I have been on the heath, and the tinkling of cow-bells has lulled me into dreams."
Mahler's World
Mahler's Methods
Mahler's Legacy