The Wanderer
The Wanderer
Even as Mahler vigorously pursued a public career as a conductor, his true passion was composing. His compositions during this period were inspired by a collection of folk poetry, The Youth's Magic Horn (Des Knaben Wunderhorn). These Wunderhorn works still draw on the soundscape of his childhood, but they reveal greater emotional fluidity and a new understanding of how to create large dramatic structures.
Time and Place: Mahler's Life as a Wanderer
Explore Mahler's expanding horizons as his conducting career blossoms and his compositional skills reach a new level of maturity in music composed during summer vacations in the Austrian countryside.
Explore Map
Watch Video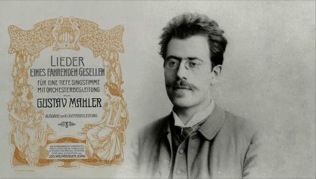 Play
Common Threads
"Impressions of his youth run like a scarlet thread throughout his work."
— Mahler's friend, musicologist Guido Adler
On this website you can follow the way Mahler's childhood memories — sounds of the countryside, the parade ground, the church, the tavern, and the synagogue — create common threads that run through all of his songs and symphonies.
"Everything in me and around
me is in a state of becoming!
Nothing is!"
Mahler's World
Mahler's Methods
Mahler's Legacy