The folk music and musicians of Mahler's childhood are tightly woven into his songs and symphonies. The sounds of village songs and dances can provide either a scenic backdrop or the main action!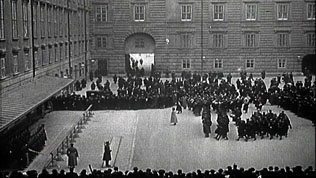 Calls and Signals
Each of the regiments stationed in Iglau had its own band, and each band came from a different corner of Europe. Nevertheless, military signals were the same all over the Empire, and literal quotes of these trumpet calls abound in Mahler.
In the Third Symphony, the call of "Fall in!"

brings the daydreaming posthorn back to earth.

The Fifth Symphony opens famously and strikingly with a haunting trumpet solo that seems to warn us of approaching tragedy. The passage is made up of two common signals, changed from major to minor:

the General Appel (General Call)

and the call Habt Acht! (Take Care!)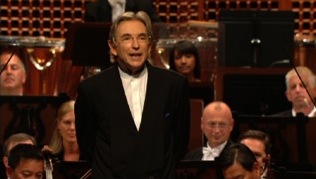 Play
Ländler
Mahler based the Scherzos of his First and most of his later symphonies on the Ländler, a rustic peasant waltz often accompanied by heavy stamping.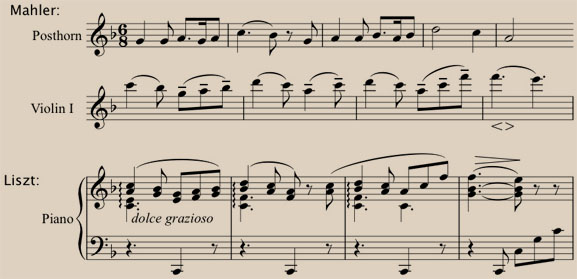 A Bohemian Rhapsody
The lyrical interlude of the Third's Scherzo begins as if fragments of Tyrolean or Bohemian melodies are drifting up from the posthorn player's unconscious. But soon Mahler mischievously lets the daydreaming solo meander into something strangely close to a popular Spanish tune of the time, the Jota aragonesa.
Many composers wrote fantasies on this melody in the nineteenth century. Here is an excerpt from the Hungarian composer Franz Liszt's Rhapsodie espagnole.

In Mahler's Scherzo, the violins smilingly answer with the Jota itself. By stretching out the tune, Mahler improbably turns it into a friendly vision. A modern American analogy would be adapting La Cucuracha for use as an inspirational hymn.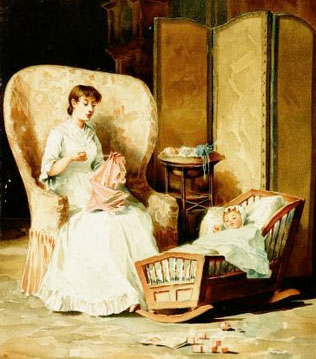 The Lullaby
The rocking motion of a lullaby, a cradle song, is the ironic background to a father's remembering his daughter in "When Your Mother Comes Through the Door" (Wenn dein Mütterlein) from the Songs on the Deaths of Children (Kindertotenlieder): "When your mother comes through the door with the shimmering candle, it seems to me you always come in with her, scurrying behind just as before, into the room. Oh you, the too quickly, too quickly extinguished happy glow of your father's cell!"